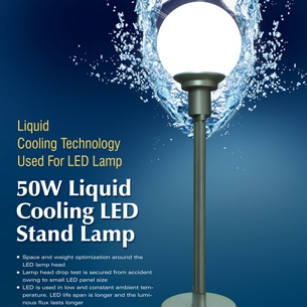 Goldyear displayed a 50W liquid cooling LED stand lamp, which features micro channels on the back board of the LED as the flow path for coolants. The cooling design effectively keeps ambient temperature on surface of the lamps at around 40 degrees Celsius.
Glodyear developed liquid-cooling technology in cooperation with ProLynn company, which provides thermal-dissipation solutions. The liquid keeps temperature from rising and resist erosion and freeze.
Excellent cooling design has postponed mean time between failure (MTBF) of the lamps until after 40,000 hours and assured the lamps can outlive three years without maintenance.
Thanks to the liquid-cooling technology, Goldyear can effectively shrink the size of LED lights, eliminating the need for massive heat sink or thermal fin. For instance, the stand lamp's round head measures 25cm (L) x 25cm (W) (L) x 20cm (W). The stand lamp is installed with Lumileds Rebel chips.